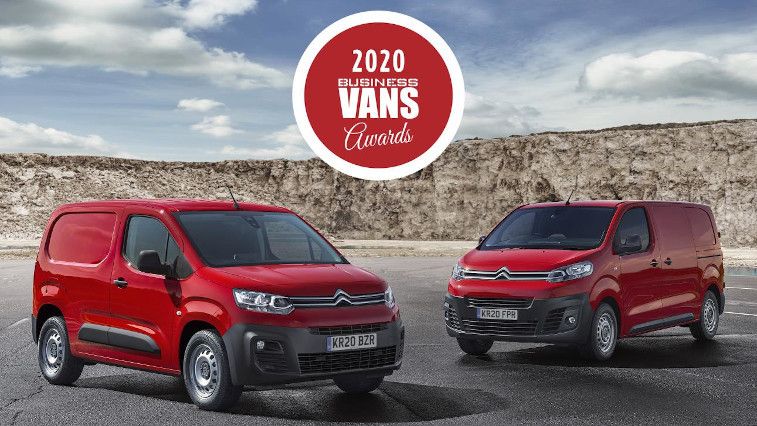 Citroën Berlingo Van and Dispatch Win Big In the 2020 Business Vans Awards
Citroën has been awarded two prestigious titles in this year's 2020 Business Vans Awards, with Berlingo Van and Dispatch winning 'Best Small Trades Van' and 'Best Large Trades Van' respectively. Citroën Berlingo Van was recognised for the second consecutive year. The judges praised both models for their impressive equipment levels, overall efficiency and innovative technology.
It has been another successful year for Citroën in the 2020 Business Vans Awards, with the French van manufacturer securing not one, but two titles: 'Best Small Trades Van' and 'Best Large Trades Van'.
Citroën Berlingo Van was honoured with the 'Best Small Trades Van' title, for the second year running, whilst the judges were also impressed with the bigger Citroën Dispatch, naming it 'Best Large Trades Van'. Both models' ability to blend generous equipment levels, efficiency and innovative features, coupled with a strong business centre network, were all cited as key reasons for the awards.
These latest accolades are the sixth and seventh awards to be awarded to Citroën UK so far in 2020, with Berlingo Van having already been honoured twice this year, alongside C3 Aircross Compact SUV, Grand C4 SpaceTourer and the Berlingo passenger vehicle.
The Business Vans Awards judging panel commented: "The Citroën Dispatch's versatile range features low fuel consumption and an impressive list of standard equipment. Van operators benefit from a range of services offered to business customers with tailored services for SMEs and larger fleets.
"The Citroen Berlingo Van features some of the lowest fuel consumption in its class and the latest Euro 6.3 petrol and Euro 6.2 diesel engines. We loved innovations such as the Surround Rear Vision system, using rear and side cameras to provide a rear view even on models with standard unglazed rear doors."
Berlingo Van is available in four trim levels: 'X', 'Worker', 'Enterprise' and 'Driver'. Since launching late in 2018, 'Enterprise' trim has accounted for almost 90% of sales. The comprehensive standard specification of 'Enterprise' that has proved so popular with buyers includes: air conditioning, rear parking sensors, cruise control with variable speed limiter, an alarm, one touch electric windows, heated and electrically folding door mirrors, tyre pressure monitor, EXTENSO® modular folding passenger seat with pivoting writing table and load-through bulkhead, colour touchscreen with Apple Car Play™, Android Auto and front fog lights.
Dispatch is also available in 'X', 'Worker', 'Enterprise' and 'Driver' trim, with the most recent addition to the range – the BlueHDi 120 S&S EAT8 M Enterprise – introduced as a second Dispatch variant with an automatic transmission. Dispatch is available in three lengths, ranging from a short wheelbase 'XS' derivative to the largest 'XL' version offering a long wheelbase maximised load length.
Latest News