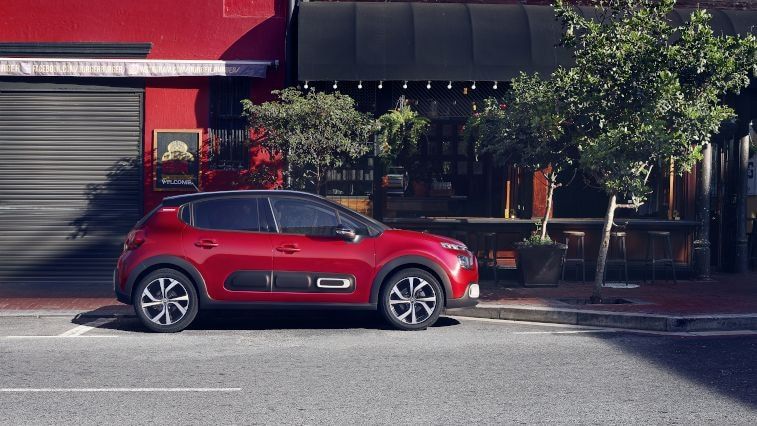 New Citroën C3 Available To Order Now In The UK: Personality And Comfort
New Citroën C3 is the latest evolution of Citroën's worldwide best-seller. The third generation Citroën C3 has already secured more than 780,000 sales globally since its launch in 2016. New Citroën C3 features the brand's latest front-end styling, updated interiors and efficient RDE2-compliant petrol and diesel engines. Full specification and pricing details are now available, and New Citroën C3 is now open for orders.
New Citroën C3 is now available to order in the UK, with first customer deliveries expected in August. Always supremely comfortable, New Citroën C3 is now the brand's most customisable hatchback, with up to 97 different exterior combinations.
Helping the model to stand out from the crowd, New C3 features a revised front-end showcasing Citroën's new signature design language inspired by the CXPERIENCE Concept. Measuring 3.99m long, 1.75m wide and 1.47m tall, New C3 also gains LED lighting at the front, new 17-inch alloy wheels and fresh Airbump® designs.
True to Citroën's "Inspired By You" philosophy, New C3 can be customised with up to 97 different personalisation combinations. Customers have a choice of coordinated colour packs centred around four bi-tone roof colours – Onyx Black, Opal White, Sport Red and Emerald Blue – along with two new body colours – Elixir Red and Spring Blue – and new 'Techwood' and 'Emerald' interior ambiances. Further personalisation options include roof décor graphics in 'Red', 'Techwood' and 'Emerald' styles, whilst Citroën's innovative Airbump® side panels have also been re-designed, featuring a colourful insert that links to the customer's desired colour pack.
Available in three trim levels, 'Feel', 'Flair' and 'Flair Plus', New C3 comes with a wealth of standard equipment, including Airbump® door panels, EcoLED headlights, 3D rear lights, a 7-inch touchscreen with Apple CarPlay™ and Android Auto, automatic air conditioning, cruise control and speed limiter, lane departure warning, speed sign recognition and recommendation, and Coffee Break Alert.
In addition to 'Feel' specification, 'Flair' models come with stylish 16-inch 'Hellix' diamond-cut alloy wheels, bi-tone roof and colour coordinated door mirrors, automatic headlights and rear parking sensors.
The range-topping 'Flair Plus' trim features 17-inch 'Vector' diamond-cut alloys, Citroën Connect Nav with three-years of TomTom Live updates, Advanced Comfort seats, Active Safety Brake, Driver Attention Alert, Intelligent Beam Headlights, Assistance & SOS, and a reversing camera.
The interior of New C3 comes with new materials and features too. For example, the new 'Techwood' ambience comes as standard on 'Flair Plus' models – with soft-touch materials and special stitching, and a dashboard finished with a 'light wood' appearance, coordinated with striped detailing on the seats. Providing yet more choice, a no-cost 'Emerald' ambience is also available on 'Flair Plus' models – with 'Emerald' detailing on the dashboard facia and a matching thick stripe on the front seat backrests and on the outer rear seats.
New C3 buyers can also equip their vehicles with Citroën's Advanced Comfort seats, which are available as standard on all 'Flair Plus' models. These generously proportioned seats – which feel almost like an armchair – provide enhanced comfort, both visually, and in terms of posture and lumbar support (adjustable on the driver's side). As soon as you sit in New C3, the emphasis on comfort is immediately apparent. Special foam on the surface of each seat is coupled with thick fabric for unrivalled softness.
Drivers have a choice of efficient petrol and diesel engines. Importantly for company car drivers, all of the engines are RDE2-compliant, ensuring they do not attract the 4% surcharge in Benefit-in-Kind (BIK) rates.
The entry-level 'Feel' trim features the petrol PureTech 83 S&S manual powertrain, while 'Flair' and 'Flair Plus' models feature the same PureTech 83 S&S unit, or additional choices as follows:
PureTech 110 S&S 6-speed manual
PureTech 110 S&S EAT6 automatic
BlueHDi 100 S&S manual
Latest News