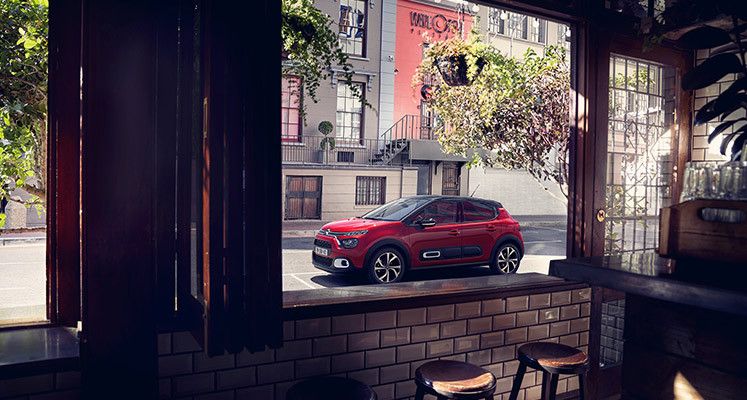 New Citroën C3: ever more personality and comfort!
Today, Citroën unveils New C3, an evolution of the brand's worldwide best-seller, with over 750,000 sales achieved by the 3rd generation Citroën C3 since its launch at the end of 2016.
New C3:

Strengthens its character with a new front end signature and LED headlights.
Increases its customisation potential with 97 exterior combinations available, including four colour packs, four roof colours, two interior ambiences and a new 17-inch alloy wheel design.
Features new Airbump® designs – the brand's well-known graphic signature.
Offers a new on-board comfort experience with new Advanced Comfort seats, 11 driving aids to make everyday life easier, including front parking sensors, and connected services: Connect Assist, Connect Nav and Connect Play.

A versatile hatch at the heart of the market, with efficient Euro 6 internal combustion engines.
New C3 will arrive in UK dealerships from June 2020.
The C3 is Citroën's best-selling model, in the top five in the B segment in Europe, as of the end of December 2019. The charismatic and charming C3 is continuing its offensive in its highly competitive segment, by strengthening its unique design, its colourful personality and its unparalleled comfort. The model that gave new drive and energy to the brand in 2016 has since appealed to over 750,000 customers around the world. An "Inspired By You" formula for success, C3 intends to continue its expansion by targeting urban and suburban young people who are creative, optimistic and who are constantly on the go. The model also has strong appeal for fleet and business customers. Within this segment, C3 saw its registrations increase by 12.6% in 2019.
With this change, Citroën's desire to stand out from the crowd is even more intense. New C3 is the most customisable and comfortable hatch in the segment.
A UNIQUE PERSONALITY
– New design to cultivate the difference. With its assertive style and unique shape within a busy segment, New Citroën C3 continues to shake up the market. The bold style of its new front end, which showcases the new brand signature, was inspired by the CXPERIENCE Concept. New C3 also gains new LED headlights, new 17-inch alloy wheels and new Airbump® designs providing an impressive new look.
– Extended customisation potential: "Inspired By You", Citroën allows everyone to tailor their car to their desired style. New C3's customisation range extends to 97 combinations, offering a choice of coordinated colour packs centred around four bi-tone roof colours, along with new body colours (Elixir Red & Spring Blue), new exterior trims and the brand-new 'Techwood' interior ambiance.
COMFORT AND MODERNITY ON-BOARD
New Citroën C3 has been designed to make every journey a relaxing and pleasant experience.
– A feeling of well-being on-board enhanced by new Citroën Advanced Comfort seats, supplementing a smooth ride and outstanding driving manners (ride quality, steering).
– An easy-going model, with modern technologies combining serenity and modernity. New C3 offers front parking sensors (new) and connected services aiming to improve the driver and passenger experience (Connect Assist, Connect Nav, Connect Play). Equipment that complements the already long list of 11 driving aids for added comfort – including hill start assist, active safety brake, road sign recognition and automatic switching of main beam headlights – providing key safety technologies and peace of mind for custome
Latest News