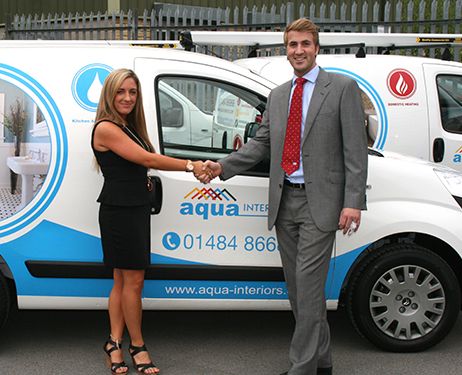 PRESS RELEASE - 28 August 2014
Local businesses join together to make a winning team
SB Citroen Wakefield are seen here handing over the keys to Aqua Interiors who recently purchased ten New Citroen Nemo Vans from SB Wakefield. Aqua Interiors is a family run business established in 1975. They are known both locally and nationally for their quality workmanship and unrivalled customer service.
David Rayner, Managing Director at Aqua Interiors commented on his recent purchase "I am delighted to be able to support our local Citroen Dealer and I am very impressed with the total Business to Business package we have been able to negotiate which includes a 4 Year Service Plan agreement."
SB Wakefield have been Citroen dealers since 2009 however the Managing Director, Mr Simon Bowett has been in the motor trade in West Yorkshire for the last 40 years and he commented on their recent partnership "We are very grateful to Aqua Interiors for choosing SB Wakefield as their Citroen supplier and look forward to a great working relationship for many years to come."
All SB Citroen Wakefield Business to Business enquiries can be made to Chris Jepson anytime on his mobile 07827 951017. Alternatively you can email him on: chrisjepson@sbwakefield.co.uk and he will be happy to discuss your business requirements.
Pictured John Bowett, Operations Manager of SB Wakefield and Suzy Oddy, Customer Service Co-ordinator of Aqua Interiors
Latest News