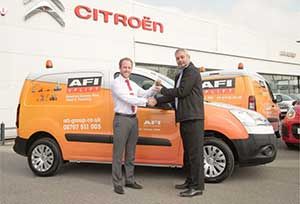 SB WAKEFIELD DELIVER ON THEIR BIGGEST EVER ORDER
SB Wakefield were delighted to deliver on the first batch of Citroën vans from the 40 ordered by Paul Shipman, Group Operational Support Manager of AFI-UPLIFT, one of the UK's leading powered access hire companies based in Wakefield. The order of 40 Citroën vans included a mix of Dispatches and Berlingos. AFI-UPLIFT had purchased a number of Citroën C4s from SB Wakefield a few months earlier and as a result of the service received said they would get the opportunity to work with them again. The deal represents a new relationship between these two well established firms and SB Wakefield's Service Department look forward to supporting the business and keeping the fleet on the road.
SB Wakefield aims to work with clients to understand and meet their needs and this order illustrates the breadth of that. Daniel Downs, who headed up the operation, said "The team of people involved in this delivery was significant and my thanks must go to them for their professional input. Paul at Protect A Van is a long standing friend of
SB Wakefield and he has delivered yet again in classic Protect A Van quality and style. Joe from Smart Signs was contracted for the signage of the 40 vans and has worked with SB Wakefield previously giving us the confidence of a quality result. Joe's fine attention to detail is something we value in the projects we undertake together."
This order has been one of large proportions and SB Wakefield have work very closely with Paul Shipman of AFI-Uplift who Daniel said has always been at the end of the telephone whenever they wanted to consult with him, a true credit to the AFI-Uplift team.
Daniel also added "This is a project I've loved to be part of and it's a shame it's coming to an end. It's through such professional collaboration that we have been able to deliver and I'm sure that when the next round of orders is out there SB Wakefield will be the first choice once again for the business".
Should you wish to discuss your business needs, Daniel is available on 01924 332525.
Latest News