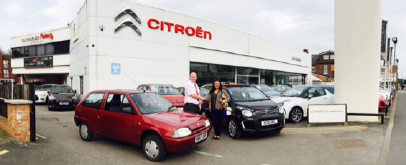 SB WAKEFIELD RE-VISIT THE 1990'S
It was a nostalgic moment when Miss Laura Salway drove into SB Wakefield, Citroën's main dealer on Ings Road, Wakefield in her 1995 M Registered Citroën AX earlier this month.
The Citroën AX was a supermini built from 1986 to 1998. It was launched at the 1986 Paris Motor Show to replace the Citroën Visa and Citroën LNA and was designed for lightness and in its day was one of the most popular superminis on the roads.
Matthew Longfellow, Sales Executive at SB Wakefeld commented "It's not very often that a car of this age makes its way back to a Citroën dealer and in such impeccable condition and with only 80,000 miles - it's a credit to Miss Salway." Although the car has not been in Miss Salway's possession for those 20 years, Laura has thoroughly enjoyed driving her AX, but thought the time was right for a change.
After taking a test drive in the Citroën C1 Miss Salway, a teacher at St Wilfreds Catholic High School here in Wakefield, decided to purchase a brand new 15 plate Citroen C1 Feel Airscape from SB Wakefield.
Laura is delighted with her stylish new Citroën C1 and says "I wanted a car that looked stylish but was great for city driving and the convertible Airscape model is great for the summer months.
It's a great car and very easy to drive with the bonus of having Nil Road Tax."
If you require any information on the Citroën range or wish to arrange a no obligation test drive then please contact John Bowett, on 07990 607513 or email johnbowett@sbwakefeld.co.uk.
Pictured Miss Laura Salway with her Old Citroën AX and her Brand New Citroën C1 Feel Airscape
Latest News