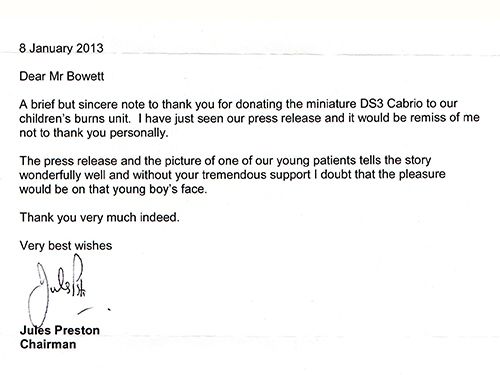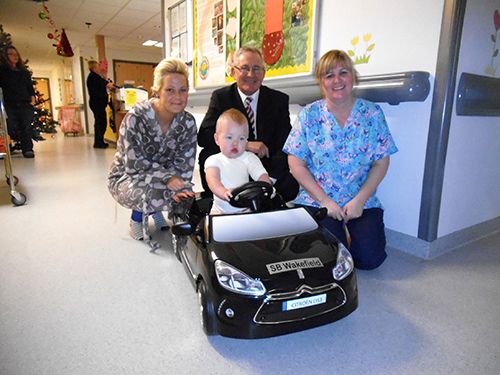 Young burns patients test drive new set of wheels
18 December 2013
Children and young people treated at a regional burns unit are whizzing around on a brand new set of wheels thanks to a donation from a Wakefield car dealer.
The stunning black miniature DS3 Cabrio now takes pride of place at the Children's Burns Unit at Pinderfields Hospital thanks to a donation from Citroen dealer SB Wakefield.
And not only is the pedal-powered convertible great fun to ride around, it is also boosting the treatment and recovery of the young patients who are treated at the unit.
Tracy Foster, play specialist at the Trust, explained: "Our children absolutely love this little car. It is fun for them to play with. Some even ride the car down to theatre just before an operation, which really helps to take away some of the fear just before they have to go through a procedure.
"It is also fantastic for treatment. To drive it, they have to either walk it along, or push the pedals to make it go. If they have burns on their legs, this means they are stretching the skin, which helps it to heal. So they are actually having physiotherapy without them even realising it."
Mike Haddock, Sales Executive at SB Wakefield, said: "The dealership had the car in the showroom for some time and we decided to put this vehicle to good use, to kids who would really benefit from it."
John Bowett son of the Owner Simon Bowett who is Assistant to the Sales Director said: "The regional burns unit helps so many young people and their families across the region and we wanted to show them our support."
Pinderfields Burns Club, which provides care and support to young people from birth up to age 18 who have been affected by burns injuries. As the regional specialist centre for children's burns injuries, the unit cares for young people from across Yorkshire and Humber.
Anyone wishing to support the club can email tracy.foster@midyorks.nhs.uk.
People can also donate by texting BURN01 and the amount they would like to donate, for example BURN01 £5, to 70070.
Latest News