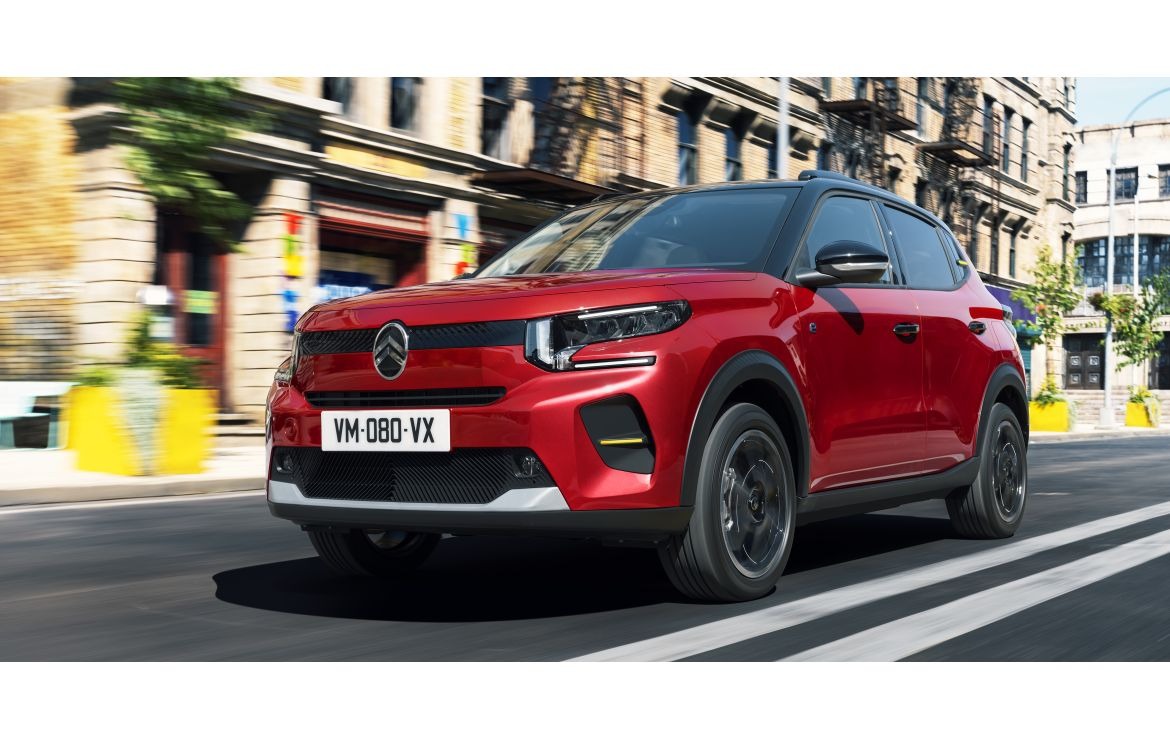 CITROËN REVEALS THE ALL-NEW Ë-C3, THE FIRST EUROPEAN AFFORDABLE ELECTRIC CAR
BEST-IN-CLASS COMFORT: all-new ë-C3 proposes for the first-time the acclaimed Citroën Advanced Comfort® Suspension mated with new style Citroën Advanced Comfort® Seats. All-electric ë-C3 goes further with zero noise and zero vibration for stress-free ride.
EASY ELECTRIC LIFE thanks to 44kWh battery pack providing up to 320km (199 miles) WLTP driving range, and 100kW DC fast recharging from 20 to 80 percent capacity in just 26 minutes.
FULLY EQUIPPED, all-new Citroën ë-C3 surprises with comprehensive portfolio of equipment, smart solutions including all-new C-ZEN LOUNGE, innovative approach reinventing the dashboard.
Designed from outset around global BEV-native Citroën 'Smart Car Platform', ë-C3 debuts new Citroën design language and brand signature.
The all-electric ë-C3 proudly heads up the fourth-generation line-up of Citroën's most popular car, which has sold more than 5.6 million units since the launch of the first generation in 2002. The C3 is being the brand's most popular model and representing 29 percent of Citroën's European sales volume. In 2022, the C3 captured 11 percent overall of the European B-segment market.
Significantly, the all-new ë-C3 signals a new chapter for Citroën. The popular and daring brand is reinventing itself to aggressively meet head-on the challenges of making all-electric mobility accessible to all with the first European-designed and Europe-built all-electric B-hatchback for customers wanting the benefits of zero-emission mobility at a net, fair and affordable price.
Citroën CEO Thierry Koskas explains: "Offering affordable vehicles has always been a major part of Citroën's DNA. But customer expectations for vehicles in the B-segment have changed, notably with the rise in popularity of SUVs and the increasing desire to drive electric in and around our cities, and it has become more challenging for European vehicle makers to meet those expectations. Uniquely, Citroën is daring to do exactly that with the all-new, all-electric ë-C3 for European buyers: a fresh, sharp and comfortable B-hatch that is fully-equipped, specifically designed for and made in Europe, and extremely affordable"
1 - BEST IN CLASS COMFORT
Taller and squarer but within similar footprint: all-new ë-C3 offers no-compromise comfort, higher driving position (+100mm vs. B-hatch) to make ingress and egress easier, higher ground clearance, plus exterior protective elements to reflect customer tastes.
ALL-NEW Ë-C3 ADDS PROGRESSIVE HYDRAULIC CUSHIONS
For the first time in the history of the C3 hatchback, Citroën is fitting its innovative and exclusive Citroën Advanced Comfort® Suspension as standard equipment to all versions of the all-new, all-electric ë-C3.
Invisible to the driver and occupants, Progressive Hydraulic Cushions® ensure vehicle occupants enjoy a unique 'magic carpet ride' feeling of comfort on the road thanks to the use of progressive Hydraulic bump stops, allowing engineers greater freedom to tune the all-new ë-C3's suspension to give the impression that the car is gliding when driving over uneven ground. Two stops are used on each corner of the vehicle in conjunction with the shock absorber and spring instead of mechanical stops – one for compression the other for decompression (or rebound).
The acclaimed system works in two stages. For lighter compression and decompression, the spring and shock absorber control vertical movements together, with no assistance required from the hydraulic stops. For major impacts, the spring and shock absorber work together with the hydraulic stops, to slow the movement gradually, and iron out jolts at the end of the range. Unlike a mechanical stop that absorbs energy and then returns part of it as a shock, the hydraulic stop absorbs and dissipates this energy.
"Comfort is a key part of Citroën's DNA. It's very important to us because it's very important to our customers. That's why we have gone to extraordinary lengths to make the all-new ë-C3 the most comfortable car in the B-hatch segment with Citroën innovations like new versions of our Citroën Advanced Comfort® Seats and – for the first time on C3 – our Citroën Advanced Comfort® Suspension" said Laurence Hansen, Citroën Product and Strategy Director.
HOMELIKE INTERIOR FOR CLASS-LEADING COMFORT
The spacious interior has been crafted around simple yet refined surfaces to provide occupants with an ambience similar to that of their home living room or lounge. All-new ë-C3's new pattern Citroën Advanced Comfort® seats are tailored for the car and use additional foam to provide a welcoming and soft feel from first contact and a supportive ride whatever the distance.
It continues with the all-new design which, at 1.57m high, provides front seat occupants with 30mm more headroom for a higher, more commanding driving position with an enhanced feeling of control and safety. Everyone benefits from greater outward visibility, helping to boost the feeling of wellbeing when on-board. In fact, all-new ë-C3 is roomier inside in almost every dimension than its predecessor, despite being only 19mm longer and 6mm wider. Rear passenger elbowroom is superior by 19mm, and front by 21mm to the average market, while rear seat knee clearance is best in class, at least 20mm greater than average.
Carrying items and luggage is easy in the all-new ë-C3. Its taller interior is filled with useful and smart stowage areas on door panels, the centre console and under the central armrest, while a wireless charging mat is available for the centre console (standard on 'Max' version). Comfortable 60-40 rear seatback modularity (standard on Max version) and a width between rear wheelarches of 1015mm ensures that owners can transport larger objects whenever they need to, and the generous 310 litres of luggage volume behind the rear seats should be ample for most shopping trips.
At 1.57m high (excluding roof bars), the all-new ë-C3 is taller than its predecessor, and benefits from SUV-style ground clearance to make ingress and egress easier and provide a more assured ride over the speed bumps, kerbs, and potholes often encountered in urban and suburban driving. Ground clearance is an impressive 163mm for the all-electric ë-C3 compared to a ground clearance of 135mm in the prior model.
2 - EASY ELECTRIC LIFE
83kW/113hp electric motor delivers power and torque for daily commute and long journeys while 44kWh LFP battery pack provides up to 320km (199 miles) WLTP driving range.
100kW DC fast recharging from 20 to 80 percent capacity in just 26 minutes. Easy access to more than 540,000 charging station across Europe.
Connected navigation with new ë-ROUTES App ensures journey times will be reduced and more reliable 'live' charging network is always accessible.
First in Stellantis, the cost-efficient, BEV-native platform uses a 44kWh LFP (Lithium Ferro Phosphate) battery pack to deliver up to 320km (199 miles) WLTP driving range, and 100kW DC fast charging capability allows recharging from 20 to 80 percent capacity in 26 minutes.
Standard AC recharging, from 20% to 80%, takes around 4h10 using 7kW power, or 2h50 if 11kW is available. Accessing both home and public AC charging facilities is easy using the standard supplied Mode 3 cable which is ideal for regular recharging at home using a wall box, as well as out and about at public charging stations. The cable can charge with either a single-phase 7.4kW or three-phase 11kW wall box.
With its 83kW (113hp) motor and fully automatic transmission accelerating the car from 0-100 km/h (62mph) in around 11 seconds, and a provisional top speed of 135km/h (84mph), the all-new ë-C3 delivers more than enough power and performance to deal with everyday driving and traffic, particularly in urban and suburban environments.
Owners will also be able to plan journeys, as well as monitor their charging status and battery level in real time and enjoy a complete navigation experience thanks to the new e-ROUTES App. This is specifically designed for Citroën electric vehicles as part of the company's 'Connect Plus' connected services subscription. Using the MyCitroën App, ë-C3 drivers will also be able to manage charging schedules, as well as pre-heat or pre-cool the vehicle and check its battery level and location.
Drivers of the all-new, all-electric Citroën ë-C3 choosing the 'Connect Plus' option will benefit from a suite of dedicated new tools to make their ownership experience stress-free. These include:
The Citroën e-ROUTES app has been specially developed for Citroën electric vehicles and is a driver's passport to the most efficient route planning, easy battery level monitoring and live charging network data. With this integrated App, drivers can be assured that journey times will be reduced, the best and most reliable 'live' charging network data is accessible, they will always know what percentage of battery power will remain on arrival, and re-routing will happen automatically if necessary.
E-Remote allows owners to use their MyCitroën App as a remote control for their ë-C3 in order to pre-heat or pre-cool the vehicle before departure, manage charging schedules, monitor charge status, and show vehicle location.
The car is automatically paired with e-ROUTES when owners enter its details into their MyCitroën account.
3 - FULLY EQUIPPED
All-new, all-electric Citroën ë-C3 surprises and delights with comprehensive portfolio of equipment and smart solutions complementing no-compromise focus on comfort.
C-Zen Lounge, with Citroën Head Up Display and compact steering wheel, a smart approach to reinvent the dashboard and replace the traditional instrument cluster providing easy access to all key information without taking drivers' eyes off the road.
Built-in smartphone holder that allows drivers to auto launch a dedicated new App using NFC (Near Field Communication) wireless technology for infotainment.
Wide range of Citroën driver assistance features now fitted to all versions offers comfort, reassurance and support.
Ensuring class-leading comfort and a serene environment for everyone on board have been clear priorities for the design and engineering teams of the all-electric ë-C3. However, this is just the start of the story, as equally important was giving this European-designed and built B-hatchback a surprisingly comprehensive array of equipment and smart solutions to suit all customer needs.
C-ZEN LOUNGE
Setting new standards for interior design was a top of mind objective. All-new ë-C3 features C-Zen lounge, an innovative, spacious, and well-equipped interior, which – as can be expected from Citroën – reinvents the traditional dashboard and provides extremely high levels of comfort.
With the introduction of the C-Zen Lounge, the driver and front passenger are treated to a clean and uncluttered view forwards as if looking through a wide arch, thanks to the large windscreen and horizontal fascia that graphically stretches across the entire vehicle and is flanked by Citroën's signature vertical air vents. The fascia is split into two distinct levels, with the technical elements above, and a cozy fabric-wrapped 'Sofa Design style' section below.
A real departure for the upper level of the fascia is the lack of a traditional instrument cluster. All-new all-electric ë-C3 sees the first use of a new Citroën Head Up Display that reflects vehicle information onto a glossy black section between the top of the dash panel and the bottom of the windscreen. This smart solution ensures there is no duplication of information as there would traditionally be between a Head Up Display system and instrument cluster, and ensures drivers can easily access all the key information they need without taking their eyes off the road.
The compact new multi-function steering wheel is smaller and easier to handle, and is reach and rake-adjustable which helps to ensure that the Citroën Head Up Display is unobstructed when operational.
At the centre of the fascia floats a 10.25-inch, colour infotainment screen, angled slightly towards the driver, while 'My Citroen Play with Smartphone Station' with a dedicated App is offered as standard equipment for owners of the 'You' model to access music, radio, calls and navigation via their own device.
The fabric-wrapped and softly curved horizontal "Sofa Design style" section below is designed to add warmth and visual character to the cockpit, while amplifying the feelings of comfort and serenity.
"We are very proud of the spacious interior, in particular our new fascia treatment with its juxtaposition between the cleaner, technical upper section and the warmer 'Sofa Design style' lower section. It is rare in this segment for the upper part of the fascia to have such an uncluttered feel to the left and right sides, and we have achieved this with the introduction of our new C-Zen Lounge with Citroën Head Up Display. Floating the central infotainment screen or smartphone station in the centre also meant that we didn't have to integrate these in a bulky or ungainly way", said Boris Reinmöller, Project Designer Manager.
SEAMLESS CONNECTIVITY
Despite being a relatively compact car, the all-electric ë-C3 places huge importance on connected infotainment choices, all of which are focused on ease of use by occupants and fast access to smart, useful features customers need to travel easily and live their connected lives seamlessly.
Instinctive steering wheel controls plus a 'Home' button on all versions ensure a stress-free experience for the driver when behind the wheel. Two levels of infotainment system are available:
MY CITROËN DRIVE WITH 10'' TOUCHSCREEN is standard on 'Max'. The central, ergonomically designed 10.25-inch colour screen uses smartphone-inspired widget architecture to provide access through virtual shortcuts to key navigation, phone, radio, Apps and media functions. Wireless WiFi capability allows smartphone mirroring and compatibility with Apple CarPlay and Android Auto.
Customers can sign up to one or both levels of Connected Services subscriptions to make the most of their system via their MyCitroën account while using the internet or the MyCitroën App.
'Connect One' offers immediate access to e-Call and Citroën Assistance, tele-maintenance services and a digital booklet.
For a modest monthly fee following a one-year trial, 'Connect Plus' offers real-time traffic information to ensure drivers can choose the optimal route for journeys, as alternatives are calculated and suggested based on anticipated traffic flows and ongoing jams or congestion.
All two versions of the new ë-C3 and their respective standard infotainment system levels (My Citroen Play with Smartphone Station, My Citroën Drive with 10'' touchscreen) are compatible with the Citroën e-ROUTES app.
DRIVER ASSISTANCE FEATURES THAT CARE
The all-new ë-C3's comprehensive collection of the latest Citroën driver assistance technologies is engineered to care for the minds and bodies of every occupant, above all the driver, and includes:
Active Safety Brake is an emergency braking system operating from 5 to 135km/h, day and night, to help reduce injuries to vehicle occupants as well as pedestrians and cyclists.
Active Lane Departure Warning System helps the driver to maintain correct positioning between road lane markings by either gently correcting the steering as the car drifts out of its lane or by alerting the driver to drifting at lower speeds. It operates between 60 and 180km/h, and is deactivated when turn signals are in use.
Driver Attention Alert informs the driver if the trajectory of the vehicle is inappropriate within its lane. This two-step alert first detects vehicle swaying and alerts the driver with a sound and message to 'Drive Carefully', then sounds an additional alert and message advising 'Dangerous Driving' once four sways are detected. Coffee Break Alert advises the driver to take a break after 2 hours of continuous driving at more than 65km/h and is repeated every hour after that if no break is taken.
Speed Limit Recognition reads speed limit signs and displays these on the Citroën Head Up Display in order to inform the driver. This smart system leverages speed limit data held in the navigation system and can also read temporary speed limit signs. The Cruise Control with Speed Limiter allows the driver to restrict their maximum speed to ensure compliance.
The Electric Parking Brake (EPB) is applied automatically when the engine stops, and releases automatically when the accelerator is pressed. The driver can operate the EPB manually via a control lever in the centre console. Additionally, Hill Start Assist holds the vehicle for several seconds on slopes greater than 3 percent to help the driver prevent unwanted movement.
Intelligent Beam Headlights use the windscreen-mounted camera to automatically switch between dipped and main beams when oncoming vehicles are detected and pass safely.
Rear Parking Sensors audibly warn the driver of the proximity of obstacles including children during reversing manoeuvres. A Rear Camera is activated when reverse gear is engaged to provide a view behind the vehicle and warn the driver of possible obstacles via the 10.25-inch colour screen (where fitted).
4 - BEST VALUE FOR MONEY
320km range ë-C3 to be offered at fair and net prices in many European markets, starting at 23,300 Euros as Citroën aggressively ramps up its mission to make all-electric mobility accessible to all.
For consumers, simplicity of choice is ensured with streamlined line-up of two well-equipped versions 'You' and 'Max'.
200 km range Citroën ë-C3 will arrive in 2025 with price starting at 19,990 Euros.
NEW PLATFORM TO DELIVER COST EFFICIENCIES
For the first time in Europe, Citroën has engineered the all-new Citroën ë-C3 around a platform designed from the outset to accommodate an all-electric powertrain. Underpinning the car is a version of the highly flexible global Stellantis 'Smart Car' platform, and this has enabled Citroën to make the all-new ë-C3 accessible to customers at prices starting from 23,300 Euros.
"Our global Smart Car platform is extremely efficient and we are already leveraging its capabilities outside Europe through new region-specific Citroën models in markets like India and South America. It was the ideal starting point for the all-new European ë-C3 line-up and even though it was engineered with all-electric capability from the start, it is flexible enough to house ICE powertrains as well as underpin larger and smaller vehicles, including SUVs," said Laurence Hansen, Citroën Product and Strategy Director.
Latest News