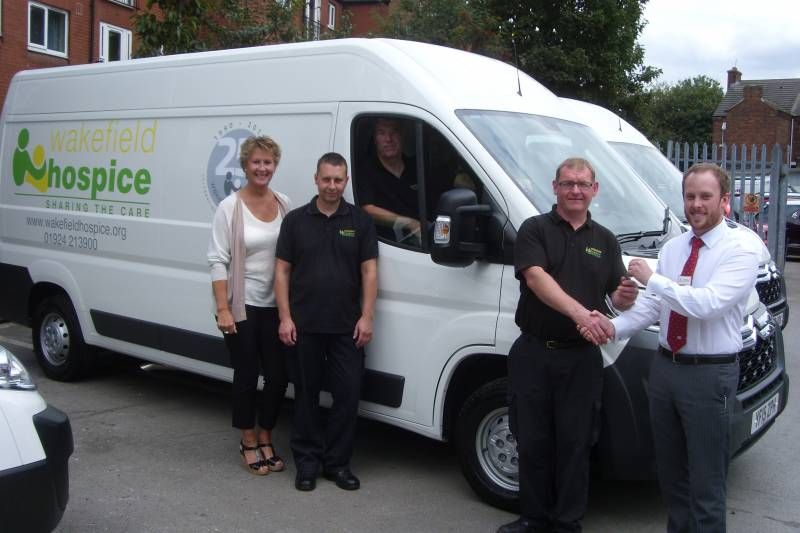 SB WAKEFIELD CARING FOR THE NEEDS OF THE WAKEFIELD HOSPICE
SB Wakefield, a privately owned, family run, official Citroen dealership based in Wakefield with over 40 years' experience in the motor trade, have supported a local charity, Wakefield Hospice for a great number of years and have enjoyed a long business relationship with Helen Knowles, Director of Fundraising.
The Hospice is committed to providing the highest level of symptom management and care for people who have advanced active, progressive and life threatening illness. The Hospice endorses a holistic approach in promoting quality of life for patients as well as in the continuing support that is offered to families and carers throughout the period of illness. For more information on the hospice visit www.wakefieldhospice.org.
Towards the end of August, Daniel Downs, Local Business Manager at SB Wakefield, was excited to announce that the Wakefield Hospice took delivery of two brand new Citroen Relay Vans supplied by SB Wakefield, on a fantastic Citroen Contract Hire deal and they are also awaiting delivery of a Citroen Relay Luton.
SB Wakefield pride themselves on offering a first class experience designed to meet all your business needs and expectations and there are many great deals on new Citroen Cars and Vans including finance packages tailor made to suit every budget as well as great deals on outright purchases.
Daniel looks forward to continuing his working relationship with the Hospice and the local business community for many years to come. For further information call Daniel Downs on 07766 366006 or email b2b@sbwakefield.co.uk or visit www.sbwakefield.co.uk.
Latest News