Explore Model
Contact us Now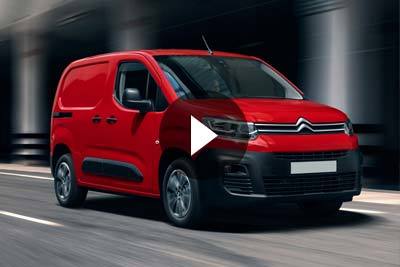 Citroën Berlingo Van Overview
Since 1996, the Citroën Berlingo Van has plied its trade as a dependable workmate. This newest version is the best yet, with two body lengths offering a load volume up to 4.4m3 and a payload capacity from 650kg to 1000kg. There are also two specialised versions available: Driver and Workmate. Driver models have enhanced acoustic insulation, an 8" touchscreen and Surround Rear Vision for a car-like driving experience. Worker models are for professionals, boasting Grip Control, Hill Descent Assist, the Extenso 3-seat cabin and an overload indicator. Award-winning turbocharged engines complete the package, with petrol and diesel models available with a manual or auto gearbox.
Design
Making a great first impression is what the Berlingo Van's all about. It's perfectly proportioned with a consistent, fluid design. The cabin's a treat too, with plenty of space and an 8" touchscreen on Enterprise and Driver models.
Drive
The Berlingo Van's short turning circle, responsive engine and automatic electronic handbrake make short work of the city. Driving it is a pleasure and it's affordable to run with fuel economy of up to 65.7mpg combined (BlueHDi 130).
Practicality
The load bay can easily accommodate a Euro pallet and there are in-built tie down hooks for securing cargo. Models with the Extenso cab can accommodate 3 people with a folding central seat to provide a mobile office.
Living with it
With the choice of one or two sliding side doors, an 8" touchscreen with Apple CarPlay and Android Auto, and the latest driving aids like Adaptive Cruise Control available, the Berlingo Van makes life on the road much more palatable.
Citroën Berlingo Van Interior